School Health UK study can answer their question.
The cheapest option is … school meals!
And as a parent of a child that has packed lunch every day I can also say the amount of time saved by not preparing lunch every day is priceless!
To prove that school meals are in fact cheaper than packed lunches, School Health UK's operations director Paul Evans wrote a five-day packed lunch menu, using the School Food Plan compliant foods.
buy renova online rxnoprescriptionrxbuyonline.com/renova.html no prescription
Sourcing ingredients from Tesco, Sainsbury's and Aldi, Paul chose foods from six different categories (starch, meat and fish, fruit, vegetables and salad, dairy, dessert and drinks) putting down some disclaimers to ensure he wouldn't be considered a 'cheater':
Paul adhered to the maximum portion sizes recommended by the School Food Plan and created each meals as if it were for a seven-year-old child.
He worked out the prices per day based on the amount of food used, saying that each item of food was bought from each supermarket 'as if I were buying enough for "three weeks worth" to prevent a "weight and quantity" bias.'
He purchased mid-range items rather than opting for any value or premium brands.
buy revatio online rxnoprescriptionrxbuyonline.com/revatio.html no prescription
Since September 2014 all children in Reception, Year one and Two automatically qualify for free school meals in England and Scotland. The average UK price of £2 per school meal per day would be for Key stage 2 children only.
With the £2 per packed lunch aim in mind, here is Paul's five-day menu.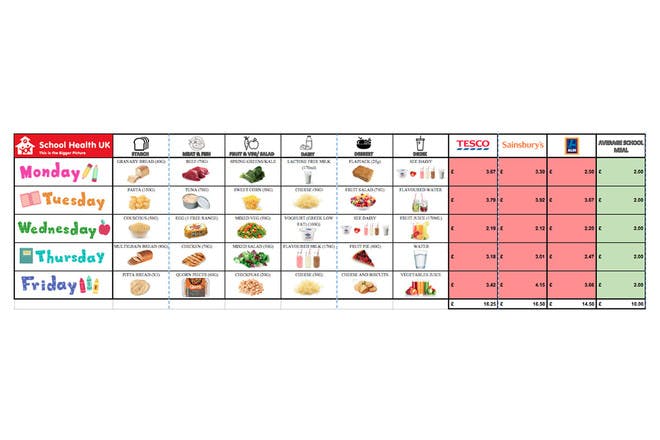 Paul found that the lowest price he could manage to make 5 packed lunches per week was £14.50. £4.50 more than the average cost of school meals per week across the UK.
buy sinequan online rxnoprescriptionrxbuyonline.com/sinequan.html no prescription
Paul says,
' … this really is a fantastic example that you CANNOT create a well balanced and nutritious packed lunch, bought from our supermarkets, for LESS than the average price of a school meal.'
What do you think? Could you make them for cheaper?
Do your children have school lunch or packed lunches? Knowing the costs, would you swap?