As an adult, a pound doesn't hold the same magic unfortunately, but self-taught chef Miguel Barclay has found a way to imbue the humble £1 with real potential again.
The cookery book author is back with the latest recipe collection in his One Pound series, and this time he's turned his attention to dinners for one that skip meat, and will only set you back a quid. Here's what we thought of it…
The book: Meat-Free One Pound Meals by Miguel Barclay
Who will love it? Flexitarians, veggies, vegans and particularly those on a budget, who'd rather not scrimp on flavour. It's also ideal for those looking to reduce their meat consumption, but aren't quite sure where to start, or what they should be substituting the beef or the chicken in their life with.
What is it trying to get us cooking? Barclay does not discriminate when it comes to different cuisines – there are recipes for cacio e pepe (Italian), cashews in black bean sauce (Chinese), chana masala (Indian), yaki soba (Japanese) and Jollof rice (West African). The defining thread is that each dish is entirely meat-free and will only cost £1 to put together. A lot of the recipes have little accompanying tips on how to 'veganise' them too.
How easy is it to use? Extremely. There are only a few ingredients and steps for each dish, so cooks of all levels should be able to tackle the majority of these recipes. If you end up struggling, you've likely overcomplicated it. The main effort will go into shopping around – Barclay doesn't just shop in one supermarket, he hits his £1 targets by tracking down the best deals at different stores.
The best recipe is… The polenta cornbread or the pea falafel – it's a close call, but both look like a doddle to make, and are great staples.
The recipe we're most likely to post pictures of on Instagram is… The cauliflower tacos – Barclay chucks in a load of very photogenic red cabbage.
The dish we're least likely to try is… The vegetable terrine – the word 'terrine' makes us want just about anything else for dinner.
Overall rating: 7/10 – as always (it's the fifth in the series), it's a brilliantly strong concept for a cookbook. You really can't argue with dinner for a quid, however, sometimes you do get the feeling that Barclay's recipes could do with a few more ingredients, just to pull things together a little more, and treat your taste buds more effectively. But for simple suppers and quick alternatives to dishes that would normally take all evening to make, it's a win.
How to make Barclay's portobello stilton burger…
Ingredients:
(Serves 1)
A few small potatoes, skin on
1 portobello mushroom
Small handful of stilton
1 bread bun, toasted
A few lettuce leaves
Squeeze of tomato ketchup
Olive oil
Salt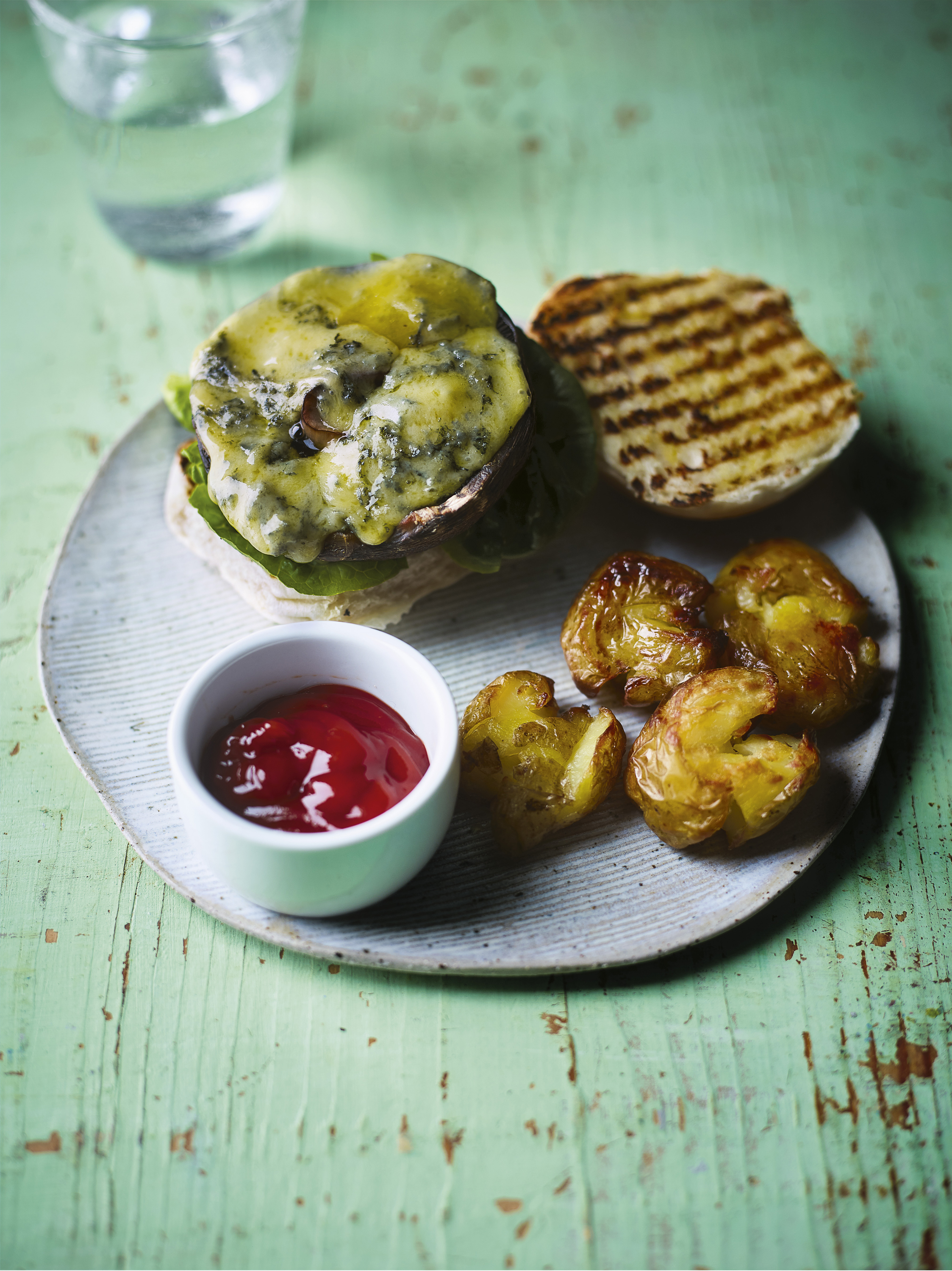 Method:
1. Preheat your oven to 190°C/gas mark 5.
2. Cook the potatoes in a pan of salted boiling water for about 15 minutes until soft. Drain and let them steam for a bit to dry out.
3. Transfer the potatoes to an ovenproof dish and squash each one slightly with the back of a fork to break the skin and expose the fluffy middle. Pour over a generous glug of olive oil, add a pinch of salt and roast for about 40 minutes until crispy.
4. When the potatoes have about 15 minutes of cooking time left, brush the outside of the mushroom with olive oil, turn it upside down and crumble the stilton into it. Place on a baking tray and cook for about 15 minutes in the oven until the mushroom is cooked and the cheese has totally melted.
5. Serve the mushroom burger in a toasted bun with a few lettuce leaves alongside the crispy potatoes and a ketchup dip.
Meat-Free One Pound Meals by Miguel Barclay is published by Headline Home, priced £16.99. Photography Dan Jones. Available now.