Alyssa Rae Brown, 27, happily expressed her milk after giving birth to baby Ambrose, who had died in her womb, as knowing it was going to other mums in need – including a friend who had just adopted a newborn – was hugely comforting.
Alyssa, of Cincinnati, Ohio, USA,  who teaches science to eight to 10-year-olds, said:  "It was selfish of me really, not selfless.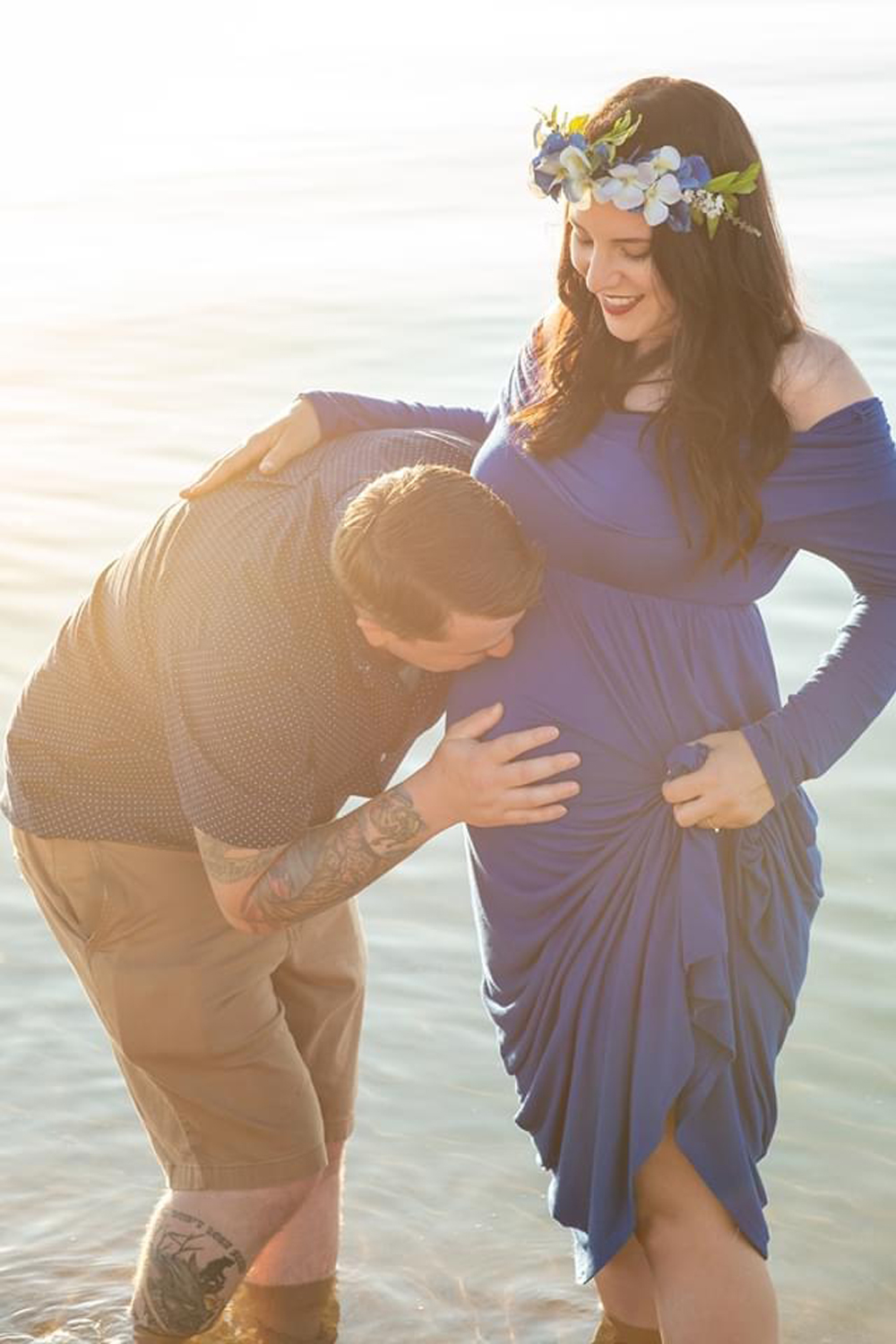 She added: "Donating my milk was a way of feeling close to Ambrose."
Alyssa – whose pregnancy was considered high risk as she has the blood-clotting condition thrombophilia – had not planned to have a family of her own.
She had been perfectly content to be a stepmother to her hospital caretaker husband Tyler's daughters, Liliel, 12, and Jocelyn, 11, who she describes as her "sun, moon and stars."
But when her pregnancy was confirmed at a seven-week scan, she said: "It was amazing.
"We told the kids at the 14-week mark, as we wanted to get out of the first trimester when miscarriage rates drop to very low levels."
Positive that she was having a boy, Alyssa recalls waiting excitedly for an anatomy scan at 22 weeks on May 14th, 2020, when she was sure her suspicions would be confirmed.
Forced to go to the scan alone, because of Covid-19 restrictions, she said: "I was so excited and so sure I was going to be told we were having a boy that I wore a blue outfit and drove myself there, singing to my baby all the way."
But, as the scan started, she says the mood in the room changed and she heard the technician checking everything whisper, 'Come on, baby,' as she took the measurements.
"She talked to me about the baby's spine and arms and legs, but I noticed she was avoiding the head," said Alyssa. "I wanted to ask why, but I suppose I was scared."
She added: "I'd asked if I could patch my husband in on video chat, but she said no. She did tell me the baby was a boy, so I was excited about that and couldn't wait to tell Tyler and the girls."
Sent from the scan to see the doctor, which is normal in America, she was then given a devastating blow.
She continued: 'He said, 'Well, I have some bad news about the baby. There is no sign of a cranium, which means when he is born, he will die.'"
Fearing she would pass out, she asked if she could sit on the floor, as he told her she needed to terminate the pregnancy, which was not legal in Ohio, meaning she would have to do so elsewhere.
Alyssa's unborn baby had anencephaly, meaning the baby's brain and spinal cord do not develop properly and a large part of the skull and brain are missing.
According to the NHS, it occurs in about five in every 10,000 babies in the UK, and the month of May is anencephaly awareness month.
With no available treatment, up to three out of four babies are stillborn and those who survive the pregnancy die shortly after birth – on rare occasions living for a few days.
While Alyssa had read about the condition, she had never imagined it could happen to her.
Traumatised and feeling that she could not drive herself home, she waited alone in a small room for her mum, Lydia, a nurse, who lived 45 minutes away to collect her.
She had asked the doctor to explain the diagnosis to her husband, Tyler, 36, who had been sobbing down the phone.
She said: "The last thing Tyler had said when I set off for the scan that morning was, 'Come home to me with my son.'"
While staff checked up on her as she waited, she sensed that no one knew what to say and, finding it unbearable, eventually called her friend to summon the courage to drive.
She said: "I just couldn't sit there by myself anymore so I rang my best friend, Bonnie, and told her to stay on the phone and keep talking to me so I could drive myself home.
"Looking back,  I can see I was suffering from post-traumatic stress.
"I just wanted someone to give me a hug. I felt so incredibly alone."
Arriving home at the same time as her parents, Lydia and Mark, she found Tyler and his girls sobbing.
Her 7ft tall father was also crying and her sister, Macie, 25, an art therapist, had arrived to offer her comfort.
Two days later, she and Tyler had an appointment at a different hospital, where a trauma-trained maternal care team went out of their way to care for them and their unborn baby.
Alyssa said: "Brittany, the technician, spent the whole time cooing over the baby and making sure we got lots of great photos at our scan.
"She never once mentioned the birth defect and made us feel normal for a little while. I will never forget her for doing that."
Afterwards they saw a foetal medicine specialist called Dr Karen Markham, who they instantly warmed to.
"She welcomed us into her office with an open and loving heart and even cried with us," said Alyssa. "The whole team made us feel human again. "
Alyssa told the doctor she wanted her baby to be born alive, so that Tyler could hold him in his arms.
For this to have the best chance, they booked a C-section for 37 weeks, with Dr Markham vowing to "move heaven and earth" to make it happen.
Supported by a local group called Starshine Prenatal Hospice, the family then prepared themselves for the worst.
But, after a few weeks of grieving, Alyssa became determined to make the most of her time with her unborn baby – who they had called Ambrose, which means immortal and divine – by compiling a heartfelt bucket list to remember him by.
They also gave the baby the middle name Raymond, after Alyssa's late grandfather, who she said "would have a special bond in heaven" with her son.
"We made a bucket list for Ambrose and we went to all the special places we would have taken him as part of our family if he had been able to live," she said.
"The last thing we did on that list was to visit Cincinnati Zoo when I was 33 weeks pregnant.
"The girls made memories by writing letters to him and we gave them a heartbeat animal toy each. The toys have a recording of his heartbeat and they slept with them."
She added: "They sang to him and read stories to him and when Jocelyn celebrated her birthday and someone asked what the best thing that had happened to her that year was, she said, 'I got a baby brother!'"
Closely following government health guidelines as a family, to protect Alyssa from the coronavirus, on August 4 2020 Alyssa woke and realised she could not feel Ambrose moving and kicking.
"He was normally so active and always had his toes in my ribs," she said.
She added: "I told myself he was just tired but, after a couple of hours, we went to the hospital for a scan and the technician couldn't find a heartbeat."
Dr Markham came to talk to us and said, "I'm so sorry. He just couldn't fight any more."
The couple decided to stay put at the hospital and accepted Dr Markham's advice to induce the birth.
"We were treated just like any other mummy and baby," said  Alyssa. "One of the midwives had made a banner with Ambrose's name for the cot he would be placed in and my family all came to see us before the labour started."
Ambrose was born on August 6, 2020, after a 48-hour labour, which Alyssa says felt like a normal birth.
Weighing 4lb 5oz, he was 16 ½ in long and Alyssa swears he had her nose and huge feet.
The couple's families came to meet him and, thanks to a specially designed cuddle cot, the couple were able to spend 36 hours with their son.
"I was so in love," said Alyssa. "I had pure love in my heart. He was so special to me."
As well as having him cremated next door to the chapel where they had been married, Alyssa and Tyler send out a birth announcement to family and friends and arranged a memorial for him in the garden at their home.
"The hardest part was leaving him at the hospital. I remember holding his hand for the last time and trying to take in every detail of him, from the back of his knees to his face," said Alyssa.
"What losing Ambrose made me realise is that you just don't know what side of the statistics you will be on."
And in the eight months following his death, she expressed and donated 4,000 oz of breast milk to the Mother's Milk Bank – keeping a freezer in the shed to store it in.
It had special value because Ambrose had been born prematurely, so Alyssa's milk contained antibodies that would not have been present if he had been full term.
Now at 14 weeks pregnant again with a boy with no detectable health complications, she will never forget the little boy she lost.
She said: "Ambrose will always be part of our family. I will tell his brother about him.
"In fact, the biggest fear of my life is not hearing his name spoken out loud again."
For more great content like this, subscribe to our mailing list!